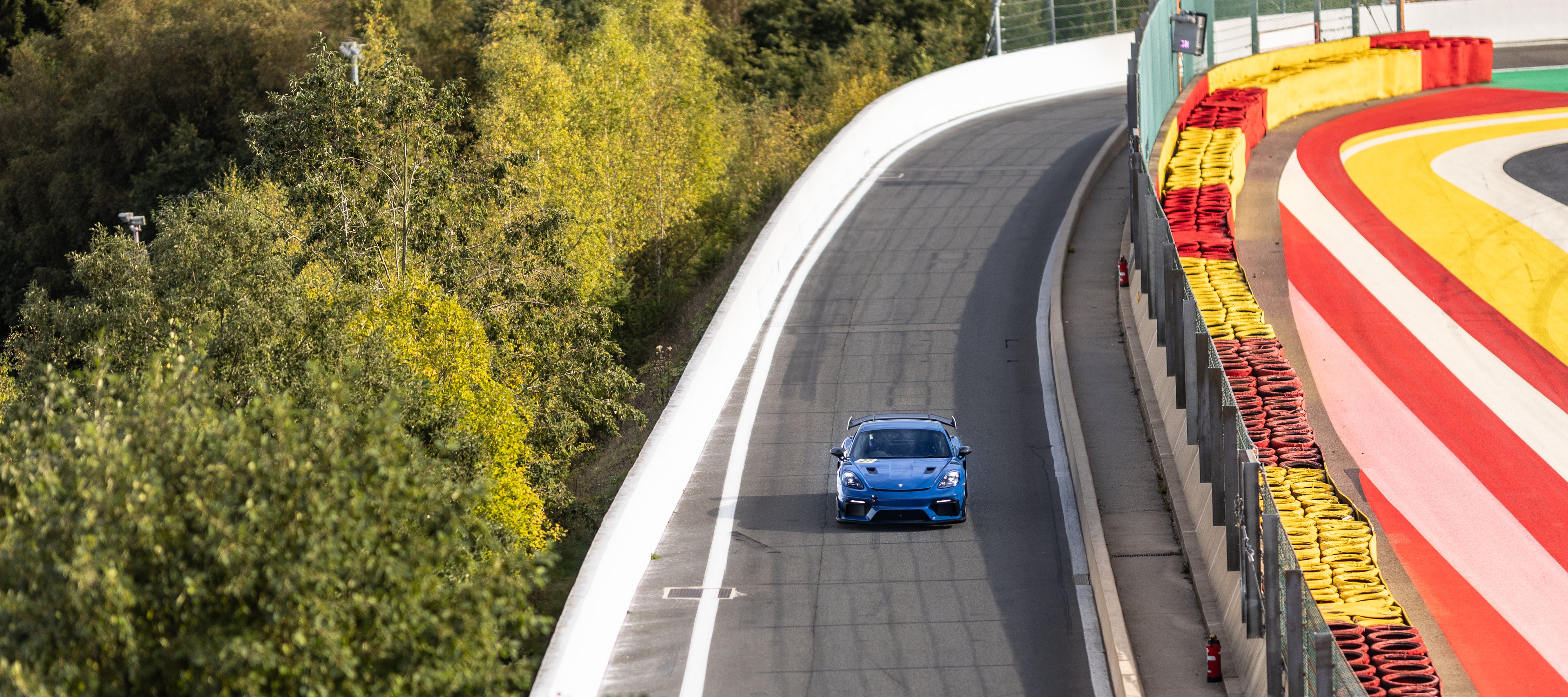 JCR 4RS takes on Spa Francorchamps
We couldn't think of a better way to launch our freshly wrapped JCR 718 GT4 RS than with a two-day trip to Spa Francorchamps for some fast, track action showcasing the new Inozetek Narwhal Blue with white details along with all important testing of our soon to be released Aero parts.
Thank you to everyone who has taken the time to comment or like our reveal post on Instagram, our blog and Facebook. It's always mega to see your reaction and response to projects we've been working on behind the scenes.
The weather matched our bright blue energy and blessed us with two days of fantastic sunshine, creating an even better backdrop and location for some track time. Just see for yourself...
Arriving in Malmedy (where we were staying for the trip), we realised we couldn't display a brand-new look with a dirty car. A wash-your-own-car stop was perfectly positioned on the side of the main road, something we need more of in the UK! Locals and tourists all came over to see the car, asking questions, taking photos and sharing our mutual love for all things automotive. 
Parking up in Spa's pitlane, we were super excited to get back on track at this fantastic circuit. However, a super busy morning and plenty of interest in the car pushed back our first run to late morning. It takes a lot to turn heads at a track day, especially an RMA track day, but our little GT4RS did just that: the JCR effect, you could call it.
As you can see from the photo above, there are some new modifications to our GT4RS that you guys won't have seen before. Starting at the bottom, we chose to run the car on a set of Cup 2R tyres; this was a gamble. However, it paid off due to the previously mentioned beautiful weather.
Our new modifications were predominantly aerodynamics-based. At the front of the car, we installed a set of our development carbon fibre dive planes and front splitter extensions. These aren't very drastic, but they add a surprising amount of additional front aero over the stock car. Towards the rear, the car has been installed with our 3D Printed Titanium Wing Uprights, moving the factory wing up and back towards the rear bumper, improving efficiency along with allowing a reduced angle of attack whilst maintaining a good aero balance. On either end of that factory wing is a set of our brand new Carbon Fibre end plates, finished with white pin-striping to compliment the car's new white accents. 
In terms of exhaust, we opted for a slightly more tame set-up than what some of you are used to seeing this car with. Our chosen configuration was our Titanium Race Pipe (valved), a set of our Titanium Weissach Tips along with our development set of Inconel Race Manifolds. This exhaust setup meant that we could still make some noise, enjoy a healthy bump in power, but be able to run worry-free for two days without having to consider Spa's noise restrictions.
We rallied together a great group of cars for a convoy from the UK to Belgium, including 718 GT4RS, 911 DAKAR, AUDI RS6, 992 GT3 MR, BMW M4 CSL, G87 BMW M2 & F87 BMW M2 Competition. It's always such a fun trip when you can get some friends together for the journey. Head over to
Archie Hamilton's YouTube
channel to check out some of his footage, which he filmed of the trip, including a complete walk-through of the JCR 718 GT4 RS detailing all of the set-up and new products we were testing there.
We were able to get some serious track time in over the two days. This allowed us to complete final sign off testing of our new aero products. We can safely say we are over the moon with the results,  proven by our lap times. A big improvement in braking and corner entry stability not only increases confidence but delivers a real world gain in performance.
As you know, we like to go for a quick lap time when we have a new car set up and the opportunity to do so. Often it's tough to go all out on a track day due to the number of vehicles however, we still like to do what we can. Certainly there's more in the tank with a clear lap and brand new tyres but we're still very pleased with what we achieved on the day.
Day one was our best shot at getting the best time due to tire quality being at its best, and we are not taking any new tires with us for day two this time, as our support vehicle has gone from being a van to a DAKAR... whoops!
Given the sheer number of cars on track at any one time, we were pleasantly surprised by achieving a reasonably clear lap, compared to the rest of the day anyway. A 2:33.86 was the best we managed to get out of the day; this was after a few sessions, too. So, we feel like with fresh Cup 2R tyres and a completely clear circuit, our data suggests a lap time in the low 2:32.00 range would certainly be possible. Lap time driver - Jonny Cocker
Check out the lap time below.
On the second day, with all performance running complete, we focused on gathering as much content as possible before heading back home. This meant our media team was across the circuit most of the day. However, we were able to get some additional content on this trip with the help of HAVisuals.
As always, we captured some fantastic content which you can check out below and we will continue to share over the coming weeks on our social channels. We also had the pleasure of having Haaris from
@_HAVisuals
join us on the trip, who has also been busy creating some fantastic imagery and video.
We don't have anymore Euro trips planned for 2023 but we're already busy putting lots of fun plans in place for 2024. Up next, we're at Donington Park for another non silenced day with some very exciting parts and a 992 GT3 MR.
See you at the track.
JC