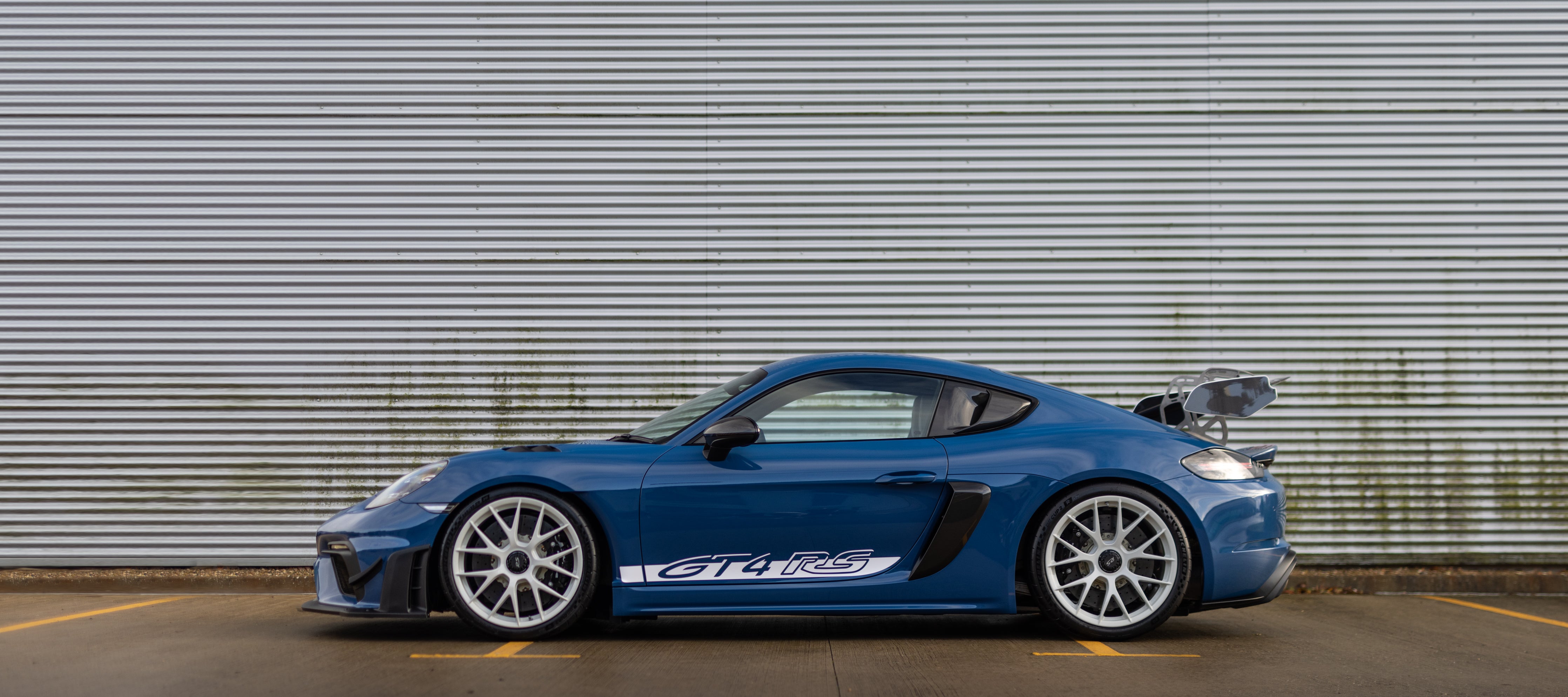 THE JCR 718 GT4 RS TRANSFORMATION
Surprise!! After a few months of ownership we felt the JCR 4RS needed a new look and we couldn't be happier with the results!
As we're sure you guys are aware, we've had some pretty cool cars in the past. However, we've never really been ones to cover our cars with our garish branding; instead opting to select colours and finer details to subtly set our cars apart from the crowd. This time we decided to go with the 
Inozetek Narwhal Blue for the base along with brilliant white accents.
After a bunch of recommendations we decided to go with the guys at WrapIT to take care of the job for us. Fitting in with our super tight time scales in and around events we have on made it a challenge but the team did a brilliant job.
We absolutely love our 718 GT4RS, and we love Arctic Grey too! So much so that our last three cars have been in that very colour. However, we felt that the time had come to change things up. With a very brief summer seemingly ending here in the UK, there will be a lot of grey around for the foreseeable. We took it upon ourselves to bring some colour into these upcoming winter months.
When the car was delivered back to JCR HQ we were blown away by the colour and the unbelievable finish. The team at WrapIT did an incredible job.
This colour may seem familiar to those of you who have been following us for a while. With the GT4RS being the most track-focused Cayman ever made, we wanted to take inspiration from our very own lap record holder, Our GT2RS MR, finished in Neptune Blue.
With Inozetek Narwhal Blue being such a close match to our previous GT2RS MR, we couldn't miss out on the opportunity to feature one of our favourite colours again.
This time, rather than black accents we went for brilliant gloss white custom side graphics and rear badge taking inspiration from the new 'retro' 992 GT3 RS logo. Gloss White OEM Magnesium wheels and gloss white pin stripe on our, very soon to be released, GT4 RS Carbon Fibre Wing End Plates along with a set of our 3D Printed Titanium Wing Uprights in raw finish.
These white accents and details will set the car apart from anything else on the track and the road. We've wanted to have white wheels on a car for a while now; we think they suit this car perfectly!
We hope you love the final look as much as we do. There's no rest here at JCR as we head to Spa with the newly transformed GT4 RS for some track time and product testing, which we will update you on next week; however stay tuned to our Instagram for live updates over the coming days.
Thanks again for all of your continued support.
JC